Felt Seal
Felt seal is a material that is used to seal, join or pack and fill the gap between two things or objects together to prevent leakage. It is placed between two surfaces of objects. It creates a sealing barrier between any moving and stationary surfaces in rotary or linear applications, stopping leakages, closing and filling up the space gaps, and locking them tight securely.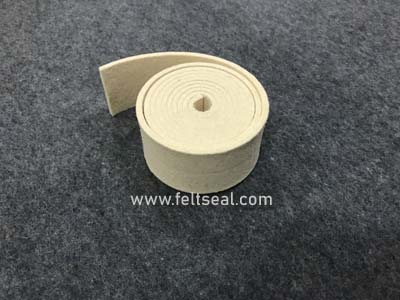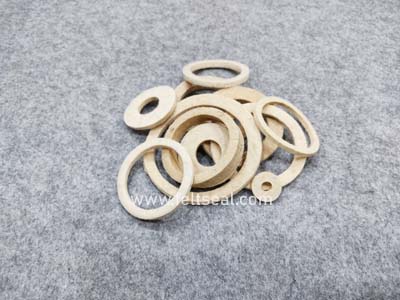 Depending upon the compression pressure required to maintain between two joining objects Felt seal is manufactured in different densities or hardness. Manufactured in different types of stiffness having a minimum density of 0.16 grams per cubic cm which is classified as extra soft material. Softness signifies it will quickly absorb any oil and also quickly release oil and other lubricants. Its retention capacity is very low. For general purpose applications, a medium or firm hard quality having a density of 0.34 to 0.36 grams per cm cube with good flexibility and bendable with little elasticity is required, with semi-rigid hardness it is not too compact and easily flexible to any shape required and easy handling. We also manufacture high density, a compact and rigid quality which is extra hard and has a density of 0.45 to 0.60 grams per cm3. In many applications where sealing is subject to wear and tear a stiff hard material is used. Durability and life of a compact and rigid quality are always higher compared to the general medium.

We manufacture in a wide range of thickness, starting from thin 1 mm to high 50 mm. In general inventory, we stock 3 mm Thick (1/8" Inch), 6 mm Thick commonly known as Quarter Inch 1/4", 8 mm (5/16" Inches), 10 mm (3/8" Inch), 12 mm Thick commonly known as Half Inch 1/2", 15 mm (5/8" Inch), 20 mm (3/4" Inch), and 25 mm Thick (1" One Inch).
The natural color is off-white, a cream shade which is standard color is always available in ready stock with instant and quick delivery. Whiteness can be further enhanced by bleaching it to pure white. In the tumble dryer drum side lining black and grey felt seal is used. It can be dyed to any color any shade as per buyer requirement.


Wool felt seal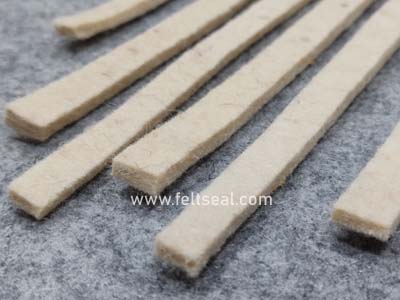 Wool felt seal is manufactured from wool fiber, wool is a natural fiber having natural felting properties, and it is an ideal environment-friendly material with many uses. Fine sheep wool hair fibers are pressed and compressed heavily to form into a pressed wool pad. Apart from sealing it can do many other functions like filtration, insulation, packing. Different synthetic fibers like polyester, poly-wool viscose are also used in the manufacturing process. Synthetic fibers do not have natural self-felting properties so they are mechanically felted with help of needles that are non-woven. It can also be weaved and woven they also require relatively little shaft pressure to function effectively.
We are manufacturer and supplier as per International standard specifications like American Standards - SAE F-1, F-2, F-3, F-5, F-7, F-10, F-11, F-12, F-13, F-15, F-50, F-51. Indian Specification as per IS 1719. British specification No. BS 4060. High-Quality Wool with accuracy in dimension and precision makes our product unique and exclusive. Russian Specification GOST 6308. Germany Standard in accordance to DIN 5419 and DIN 61200 and 61206. Japanese Industrial Standard JIS L 3201.
Shapes & sizes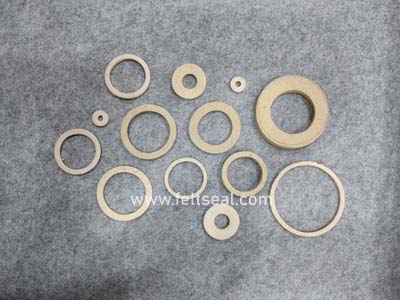 As a felt seal manufacturer and supplier we can produce in a wide variety of shapes, designs, and many different sizes. Shapes like a square where both the sides have the same and equal side measurements, Trapezoidal and with correct dimension shape will fit easily. Rectangular shape with perfect accurate right angles with fit as spacers into the gaps like a pad which is used to close down all the air gaps. Padding to reduce noise and stop fluid leakage. The strip can be used in temperatures ranging from -40 to +100 degrees. Tape and strips are cut from sheets and rolled into a coil shape. Tapered Cut strips for triangular space gaping, cut with angle accuracy in degree like 30, 45, 60 and 90 as per specification or requirement. Made in round and circular shapes like the Felt seal ring which is a round circular ring shape like washer having Outer Diameter and Inner Diameter and is used in industrial application. In Sphere, cylinder, and oval shape like sealing plug is used in pipes and hole fits and adjusts tightly also used to clean all the dirt and dust from the clog and jammed pipes. Rope sealing for concave and convex designed application. Manufactured in cord and rope shape in different diameters and lengths for wicking and oil transfer. Cutting is done with full accuracy with dice under heavy pressure.
Types
Commercial quality has good bearing protection characteristics and provides storage for oil and lubricant even if they dry out it starts polishing and protects the shaft from any damage. To enhance the performance, it can be impregnated with wax or grease and petroleum oil to increases the resistance to water and dirt. Lip seals and squeeze packing always fit tightly they do not require any pressure or compression but wool felt seal require relatively a little shaft pressure to fit tightly and function properly. We manufacture with precision, with accurate thickness and correct precise size with accuracy and under minimum tolerance and variation.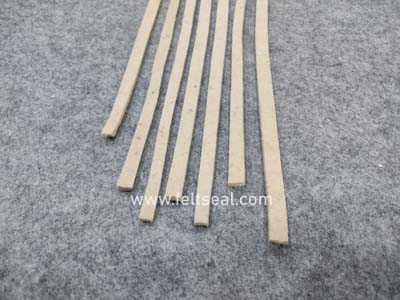 Felt grease seal where grease is coated and laminated with oil for best results, an application like in Cessna 150, 172 & Other Models MLG Aircraft Landing Gear Brake Components Part No 3021 a ring shape, it is best suited. It is used as oil grease seals to retain lubrication and at the same time prevents the entering of dirt or dust. Sometimes these are dipped, impregnated, oil coated and made by combining different grades with a special adhesive. This unique sandwich combination allows to use of two or more grades or densities to perform a dual function in an optimum manner, for example, one grade is oil dipped and oil-soaked for oil retention and the second grade is coated and covered with grease, grease is spread uniformly all covering the surface and acts as a cover for dust prevention.
All Engineers in their drawing refer to Industrial grade quality which is the technical grade and is best suited for all machine and engineering sealing applications. Machine felt seal can bear against the mating surface under pressure, they are solid heavy duty felt seal which has longer life compared to normal and regular.
Self-adhesive coating with peel-off sticker type can be done on one or both sides.
Compared to other rubber products our felt seal will work even at very low temperatures. Unlike squeeze packings, plastic, and rubber which becomes brittle and turns to powder its life is very good.
Uses :
Where application demands high qualities of compression, elasticity, resistance to aging and wear, high absorption, and low abrasion, only felt seal are specified. It has high splitting resistance, it is durable and resilient. If the operating temperatures are normal and conditions are good they are highly economical, normally requiring replacement only when the machine is overhauled. It maintains a continuous sealing pressure and seals the surface without any damage.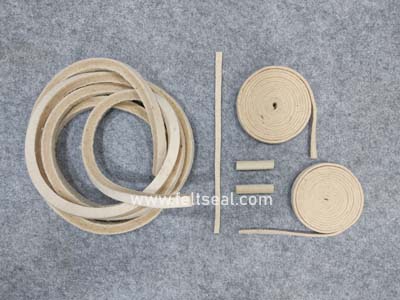 Felt seal packing is a compressed woolen packing that also provides packing function. It keeps the exact sealing pressure that is required for cushioning purposes thereby also serving the important cushioning function.
Wool Felt has long been used for sealing applications because of various favorable properties such as wicking and oil absorption properties and resilience. It can retain or separate fluids, keep out contaminants, and maintains pressure. Even for filtration purposes, it is very effective, it can filter small particles, and for filtering very small particles it can be dipped into lubricants. Compressed Wool pad material is used sometimes where there is no rubbing contact also providing the essential wicking and lubrication function.
Oil Seal: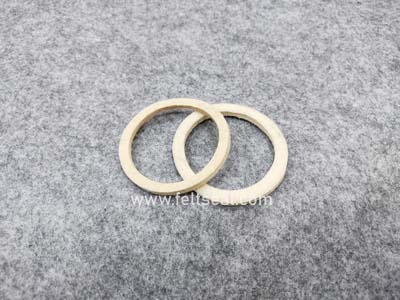 Felt oil seal is a soft and flexible material that can withstand rubbing motion against a shaft or housing to also preventing the leakage of oil and fluids. It is also known as radial lip or rotary shaft seal. The oil absorbing felt seal is a critical and very important component in almost every type of machine for example in an armature traction generator. It can absorb all types of oil like two-stroke oil, engine motor oil, hydrocarbons, and other lubricants. Serving lubrication in the axle lubricator and other machines and helps to prevent lubricants from escaping and from entering the machine.

Oil dipped and grease coated seals have cushioning power which can keep them in contact with the shaft. After pouring oil over it soaks it and retains the oils, this oil retaining feature with oil soaking capabilities along with oil transfer function makes them unique and best suited for machine use. Soaked in oil and separated by a thin layer of oil film, which also serves as a lubricant, the surface remains unchanged. Uniform and stable oil transfer from one place to another is the wicking felt seal.
Lubrication: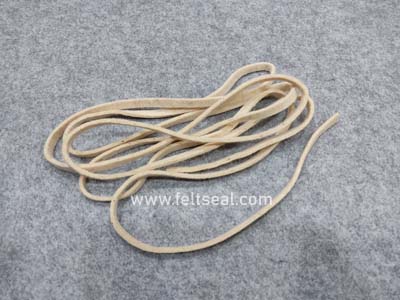 The felt sealing orientation and the direction of fibers are very important while sealing. In the bearing of Plummer Block housing, they are dipped into the oil and placed over the bearing as oil sealing felt to lubricate the bearing and absorb excess oil and also prevent dust particles from entering into the ball bearing.
Dust Seal: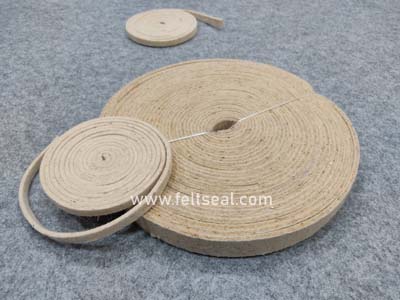 Dust seal felt retains oil and prevents dirt from entering into bearing like an isolator, acts as dust sealing for the axle box. It prevents all types of dust particles that can harm the smooth operation of ball bearing from entering inside. Being dynamic it is specially designed to protect bearings from outside contaminants. Dust guarding for gear case armature shaft.
Door felt seal: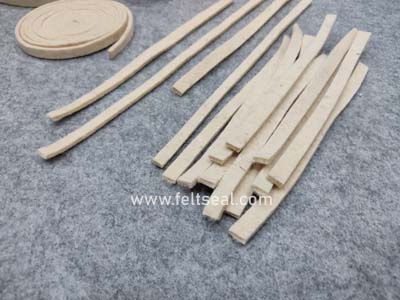 Door seal felt is used to prevent the leaking of air. Gaps between the doors and its fixture must fully be covered. Air Conditioner rooms must prevent the cool air from leaking outside, sometimes due to faulty door designs or construction, a gap appears and needs to fill with something to prevent air leakage. Similar gaps are found in windows and sliding glass doors and such gaps must be filled in by it.
Plummer Block Felt Seals: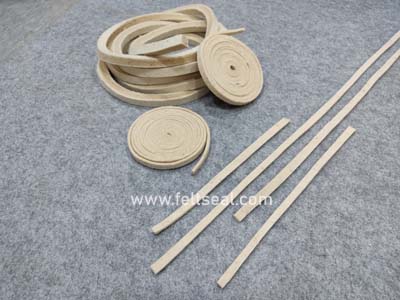 Plummer block felt seal is very effective for sealing and lubricating the bearing in pillow block bearing also known as Plummer block which is used to provide support to a rotating shaft. It provides extra life to the mounted bearing by supplying oil when the bearing gets dried up.
Different Brands and their Part Numbers:
SKF – SNL - 511-609, 513-611, 520-617, 512-610, 516-613, 515-612, 517, 524-620, 526, 522-619 SN – 510, 511, 513, 515, 516, 518, 519, 520, 524, 611, 613, 615 ; SD/SAF , SE 2, 3, 5, 6 series, FS-260. Pedestal Bearing Housing (TSN 612 C), SNA, SN.
Timken – SNT, SAF and SDAF pillow blocks split cylindrical roller bearing housings, Roller Bearing Housed Unit - 5M289, 5M293, 5M403, 5M466, 5M544, 5M643, 5M81, 5M89, 5MR1008, 5MR1009, 5MR1300, 5MR71, 5M356, 5M497, 5M559, 5MR1301, 63F1, 23078.
FAG – SNS , Split plummer block housings - SNV, S30, SNS, RLE, KPG, KPGZ, LOE, Unsplit - VRE3, BNM, BND, Take-up housings SPA, Flanged housings F112, F5, FSV505X012 , FSV304, FSV605X012. INA Plummer Block Housing – FSV208, FSV209, FSV210, FSV211, FSV214, FSV215, FSV216, FSV217, FSV218, FSV219, FSV220, FSV222, FSV224, FSV228, FSV230, FSV232, FSV305, FSV306, FSV307, FSV308, FSV311,TCV315, TCV316, TCV317, TCV318, TCV326, TCV328, TCV330, TCV332 , FSV505, FSV506, FSV507, FSV508, FSV509, FSV510, FSV511, FSV512, FSV513, FSV515, FSV516, FSV517, FSV518, FSV519, FSV520, FSV522, FSV524, FSV526, FSV528, FSV530, FSV532 , FSV605, FSV606, FSV607, FSV608, FSV609, FSV610, FSV611, FSV612, FSV613, FSV615, FSV616, FSV617, FSV618, FSV619, FSV620. NSK – RHP - FI06, FI08, FI09, FI10, FI11, FI12, FI13, FI15, FI16, FI17, FI18, FI19, FI20, FI21, FI22, FI24, FI26, FI28, IKO, KOYO, JMC, NBC, NTN, QIBR, URB, ZKL, FYH, PBI.
Ball Bearing: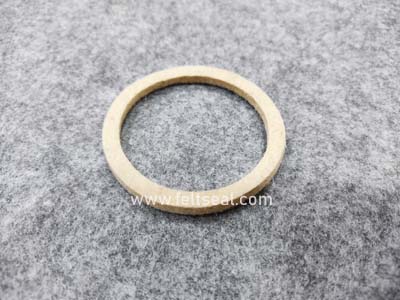 A ball bearing felt seal is usually pre-saturated, dipped in oil and lubricants of higher viscosity, and then placed on the side of the bearing to provide oil when the bearing dries up and also prevents the outside dust from entering inside the bearing it offers the bearings good protection. Used where cost is a factor, economical quality, lubricant absorption, filtration, low friction, and a polishing action is required. In ball and roller bearing it serves a dual purpose as dust & dirt prevention and retaining lubrication, which can be coated with grease lubrication. They are simple, cost-effective, and can be used at different speeds and operating temperatures up to 100 C (205 F). Its performance inside bearing housing can be improved substantially by mounting a simple labyrinth seal as secondary support. Its Advantages include its resistance to extrusion between mating parts. In electric motors, it is used to protect the motor interior from bearing grease. In bearing, to prevent lubricants from leaking and absorbs excess oil and retains it and releases it when required.
Tractor: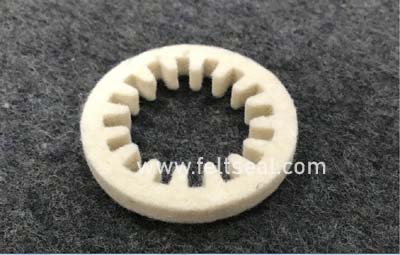 In automobile industries, like tractor machines use Front wheel hub felt seal, a washer shape placed in the front wheel hub to seal the wheel hub bearing, it is a very crucial part of the steering system where it does adequate sealing from dust and lubricates the bearing. It is the integral component of the steering box, the steering shaft is held by bearing It is an economical material sometimes also called Front wheel felt retainer. John Deere Part Number AH562R, H203R, L106T, AB475R, B348R, 48702D, 51812D, 49118DA, 350768R1, A1050R, AA663R, AB474R, B90R, D636R, N108188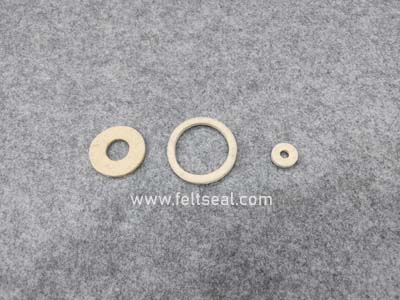 At the backside or rear side for the same function is called as Rear axle felt seal, it is oil retainer and transfers.
Massey Ferguson Part No 50092, 196079M1, 15288A. Allis Chalmers Replacement Number : 202104, 272367, 70202104, 70272367, 70800224, 70800889, 800224, 800889, U2104. Massey Harris OEM nos 1500083M1, 1505099M1, 1505258M1. Case VT3380, Cockshutt T8844, Earthmaster 57782, Steiner Tractor, 5035 Mahindra Tractor Rear Axle,
Crankshaft seal: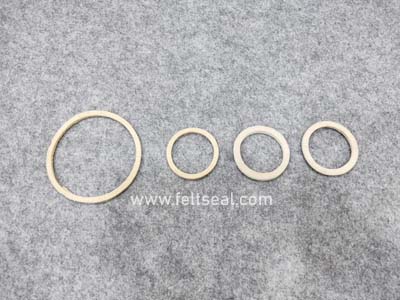 Felt crankshaft seal also referred to as Rod or shaft seal is used in a housing bore for sealing its tip and edges which comes directly in contact with the moving crank rod shaft. The crankshaft is a moving part of the internal combustion engine, the continuous moving crankshaft which is connected to a piston rod also requires radial packing. It creates a barrier between moving and stationary surfaces in rotary or linear applications such as rotating shafts and pistons.
Front Transmission Felt Oil Seal: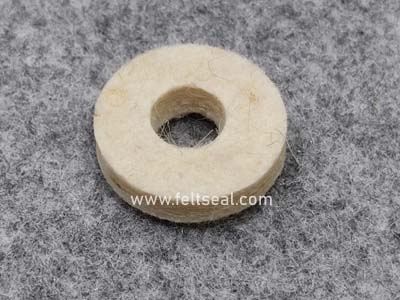 In jeeps and other automobiles, it is used as the front transmission shaft felt oil seal. A leak in engine oil, coolant, has a warning indicator like the engine overheats but a transmission leak has not such indicators, a low transmission fluid can cause many problems like low lubrication to gear can cause damage in gears. So proper sealing of transmission fluid is very important and without oil lubrication seal like the damage to front transmission seal can be more. Transmission Felt Oil Seal for front Bearing Cap for Borg-Warner T-90, T-84, T-96, it replaces part no: 645980 / J0645980. Jeep CJ5, CJ6, CJ3B, CJ3A, CJ2A, Willys M38A1, M38, MB, Ford GPW, Jeep Jeepster, Pickup Truck, Station Wagon. It Fits Jeep & Willy with T-84, T-90, 96 transmissions. Proper packing for your front transmission bearing cap to help keep out contamination.
Dryer Felt seal: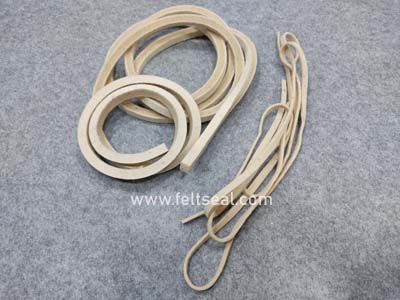 Dryer felt seal closes the gap between the drum and dryer cabinet in the washing machine, you will find edges of the drum are covered with them. It has a very important function in the tumble dryer. Without it, the clothes can get stuck in the gap between the drum to the inner cabinet of the machine and it will tear the clothes during the spinning operation. It also prevents leakage and maintains the heat inside the dryer drum which is very important for quick and effective drying. Dryer drum felt seal also helps in maintaining the uniform temperature as per operation settings preventing any leakages, it is very difficult to maintain as the air and heat can easily escape outside. It also prevents the metal edges of the front dryer drum from making direct contact with the front panel of the unit.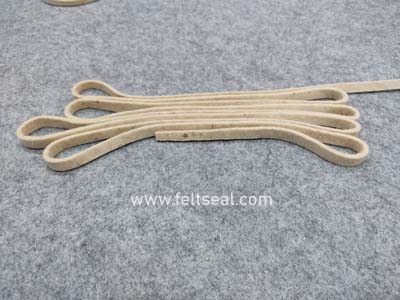 Whirlpool, Maytag Neptune WP 33001807 For Front & Rear Fits AP6007947 PS11741074 and PS2035631 measuring 78-1/2" Long x 1-3/4" Wide 4 mm thick - Replaces Part Number AP4043269 AH2035631 EA2035631 PS2035631. GE Dryer - WE09X20441 Replacement for WE9M15 WE9M30 WE09M0015, WE09X27634 AP5949286 3290413 PS9861764 PS12722961. Kenmore dryer, Maytag Neptune dryer, Samsung dryer - DC97-07618A, DC97-14849E, LG dryer – 4036EL3001A, Frigidaire Dryer No - 5303937183, 5303937183.
Crusher felt seal:
In mining industries where ore is mined and grinded and blended, an ore crusher machine is required. A crusher machine also called a grinding mill crushes the ore and crushing ore requires a heavy-duty tough machine. Similarly, a high-quality bearing is used on them. Those bearing are very expensive and to work in such dusty harsh environment dust protection is required. Grinding can be done in various types of mill. Different types of mill like Ball mill where it is used for trunnion bearing sealing, Rod mill, Autogenous mill, SAG mill, pebble mill, high pressure grinding rolls, tower mill, Jaw crusher, jaw breaker, Roll crusher, roll grinder, Stamp mill, hammer mill, roller mill. (Crusher of Lokotrack, Nordberg, Barmac, Metso, Trellex, Skega) where bearing uses ball mill felt seal for protection.
Other Uses :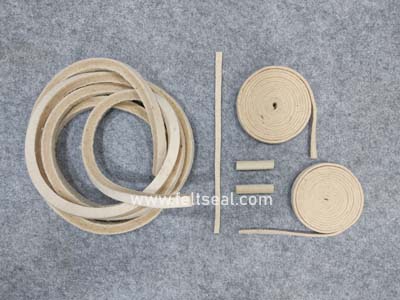 Gunite Machine and Shotcrete machine as bearing seals as dust prevention and oiling of bearing. In Street lighting and Luminaries a packing/ liner is required for tight fitting of lamp glass case with the fitting for use in all weather. In the coal plant, where coal is baked and in all types of raw mineral baking industrial ovens like battery plants, it is used as door seals. In Kilns and furnace sealing, felt is used with a supporting ring and Girth Gear Guard Segment with fixing ring assembly. In pumps and valves as mechanical felt seals for hot vapour sealing. In locomotives, motor truck, for the partition between engine & traction motor electrical generator, during assembly in gear case pinions opening.